Overkill is very pleased to be a premier tuner for the 3.6 Direct Injection LGX V6 found in your 2016 and newer Camaro V6. You're enthused about your V6 Camaro and Overkill tuning is here to help you enjoy your car even more. The benefits of an Overkill tune are straight forward: More power, more instantaneous, improved transmission performance, and proper support for your additional modifications.

With an Overkill 2016 Camaro tune, the focus has been on fixing some key driveability shortfalls. The throttle behaviour is much improved, more natural feeling and more responsive. The busy transmission behavoir to upshift early and resist downshifting is fully cured. Both of these benefits while improving horsepower output throughout the engine rpm range. Best yet, with an Overkill tune, retuning support in future is included as you add something new to your modification list. You will love how an Overkill tune improves the feel and drive of your 3.6 Camaro!

What you'll notice:

Horsepower gains of 22 wheel horepower on 91 octane with no other modifications
Improved response from the throttle pedal, fixes lag and surge on takeoff, different throttle feel in Touring and Sport modes, no dead pedal feel while cruising, NO NEED FOR EXTERNAL THROTTLE BOOSTERS!
2016 only: Fully rewritten transmission shift points: Upshift points improved in Touring mode to reduce bog, True SPORT SHIFT MODE will hold gears longer than Touring mode with quicker shift completion time.
Tuning support for your aftermarket intake systems, no check engine lights
Displacement On Demand can be disabled
Speed limiter removed, Rev Limiter in Park/Neutral raised
Tuning available for Overkill Supercharger Kits!
No Charge Retuning For Future Modifications for as long as you own your Camaro
Return to factory tuning at any time within 60 seconds



What you'll get with your purchase:

An Autocal handheld tuning device
Overkill 91/93 octane tune
Tuning support for datalogging and custom revisions
Tuning support for new mods as you add them, for as long as you own the vehicle



Why get an Overkill tune versus the competition?

Specialized in the LGX motor. From reworking the tune on a factory vehicle in great detail to being the first to tune a supercharged LGX Camaro, an Overkill tune is far more comprehensive than what you'll get at your local dyno shop.
Datalogging. You'll get your Overkill tunes but it doesn't stop there. You can scan with our handheld while driving and send that data for review and tune updates, to get a tune that's more customized for your vehicle
Support for your mods. Not only is Overkill the only tuning company offering support for your aftermarket intake systems, Overkill is working to bring new unique products to this platform such as an E85 Flex Fuel conversion kit and a larger 80mm throttle body kit, and you can be sure Overkill will have the right tuning to ensure you get the most from them!
Retunes. With our handheld, retuning for your future modifications is complimentary and easy to provide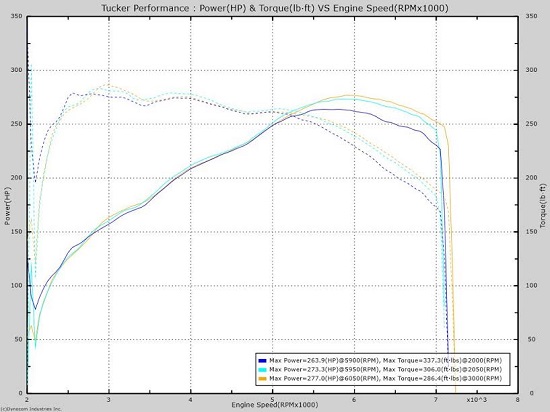 | | |
| --- | --- |
| | |
| | |
| --- | --- |
| | |
$649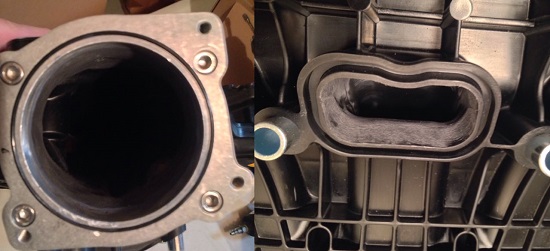 | | |
| --- | --- |
| | |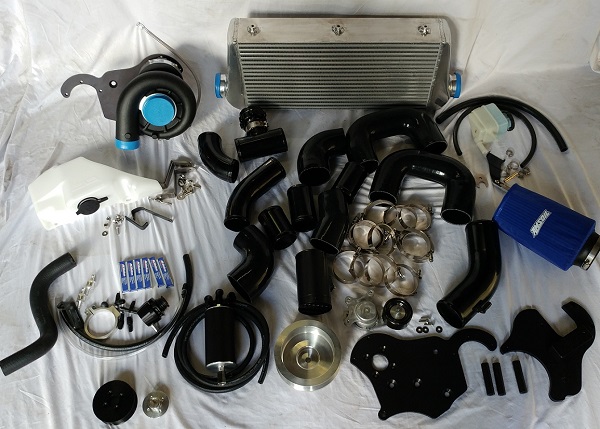 Stage 1 Kit Information
Base Stage 1 kits ship making 7-8psi on an otherwise factory vehicle, producing 366 wheel horsepower on our first installed 2016 Camaro. No other modifications were performed to the vehicle. Factory this vehicle produced 262 wheel horsepower on the same dyno;
our base supercharger kit produced a 104 horsepower increase at the wheels!
Stage 2 Kit Information
Our Stage 2 kit for the 2016+ Camaro is increases the gains an additional 30-40 horsepower. The in-tank fuel pump is upgraded with a new GM pump from another application, and the fuel injectors are upgraded from the factory 95# to new 119# injectors, again brand new GM units. With those upgrades, the included smaller supercharger pulley can be installed, and a new belt is provided as well. The boost pressure increases from the 7-8 psi base kit to 10-11psi in Stage 2. If you don't mind the additional installation, this is the way to go! Stage 2 kit bumps the price up $599.
Kits are priced at $6499 for Stage 1 complete and up, plus shipping to continental USA and Canada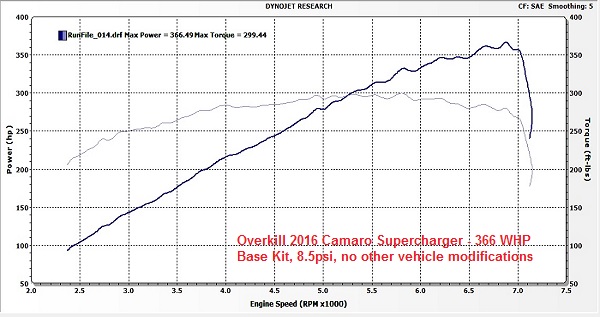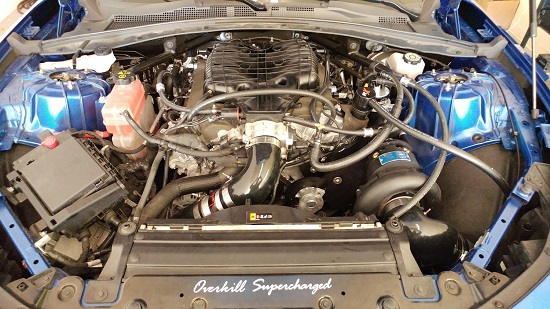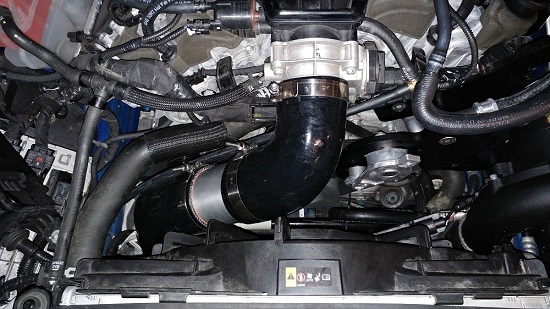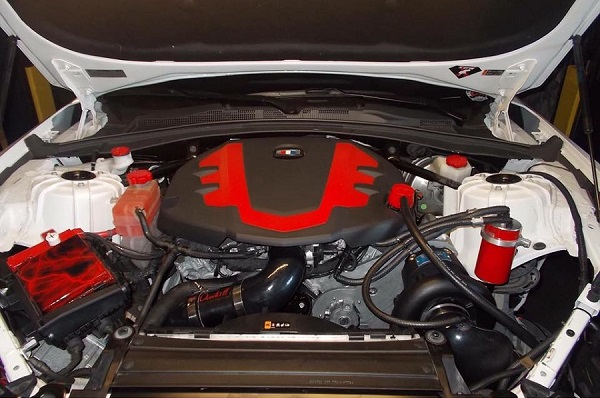 Question and Answer Guide
What Do I Need To Do To My Vehicle Before I Install This Kit? - You don't need anything. This kit gets installed on completely factory vehicles often and includes anything you need to change with the kit. If you have an aftermarket air intake system, you'll be removing it and can resell it.
What needs modifying on the vehicle, is this kit reversable? - This kit requires two modifications to the vehicle: 1) One of the 8 MAF wires will need to be cut and extended, the other 7 you simply cut back some of the wire loom and tape and unravel to length the connector reach, 2) You'll need to use a 4" hole saw to make holes in the plastic shroud behind the front bumper (hidden) for the intercooler tubing to pass through. That's it, all the rest of the kit is completely bolt on, nuts and bolts, and is reversible if you need to remove it without any signs of installation.
Will this void my factory warranty? - Safe to say it will likely void the warranty on your engine, if your dealer sees your vehicle with this kit installed. It shouldn't void your warranty for non-drivetrain related repairs included in the bumper to bumper warranty. Suggest you discuss with your dealer as needed, since GM covers the warranty of your vehicle, we can't speak for specifically what will and won't be covered
BACK TO PRODUCT LISTINGS