2006 Chevrolet Trailblazer SS Project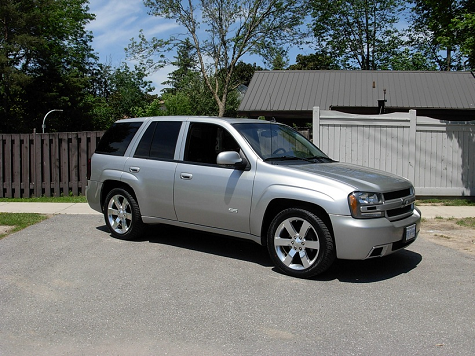 My current vehicle is this 2006 Chevrolet Trailblazer SS. Like most of the vehicles I end up with, this one has a story too.
The Trailblazer SS comes with a true Corvette 6.0L LS2 V8 with 395 horsepower, aluminum block and all, just with a truck intake manifold and its own special oil pan. The oil pan is a poor design however, and spinning rod bearings is very common due to starving the oil pickup. That's exactly what happened to this vehicle, I actually bought it off a used dealership lot knocking like hell but in otherwise terrific condition.
The search for the best fix or replacement motor began and ended when I paid a visit to Crosstown Engines in Toronto ON, a place that had done good work for me before. There in their front room was a brand new LS3 crate motor on display, never been run before. Since the motor needed to be disassembled and cleaned, being open to air for so long, it was the opportunity to do a proper install since the crank reluctor ring needed to be replaced to interface with the 2006 engine computer, along with the camshaft gear.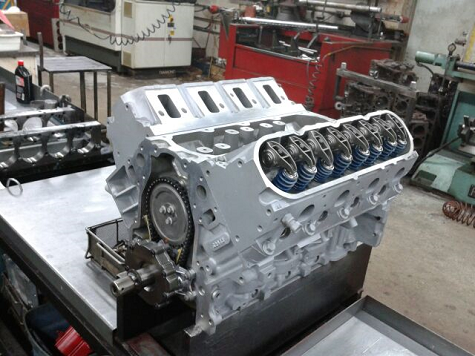 To bump up the power a little, I had already prepurchased a GMPP LS Hot Cam for the project, which GM installs in the LS3 and sells as a crate motor rated at 480 horsepower. While bigger cams are out there, the goal was to keep the motor all GM inside. The LS3 timing chain tensioner was swapped back to the more reliable LS2 unit. A higher volume oil pump was purchased from the AFM/VVT Vortec/LSx applications. The only aftermarket item installed was a PCMofNC oil pickup tube kit to fix the oil starvation issue, along with a pickup tube girdle which uses both retaining bolts to the pump rather than just the one. The car manifold was ditched and a brand new L92 6.2 truck intake manifold was purchased with matching fuel rail, 44# fuel injectors, and even a brand new 87mm OE throttle body.
Power was further improved with a set of stainless long tube headers with 3" Ypipe, a Magnaflow 3" cat-back exhaust, A Simple Intake 4" tubing with an Amsoil 9" cone air filter, a Yank 2600 stall torque converter, a set of Brisk LGS spark plugs and Amsoil synthetic oils in the engine, transmission, both differentials combined with GM specialty oils to completely refresh all the fluids in the vehicle. An absolute mountain of parts were provided for the engine install, including a new radiator, new rad hoses, new transmission oil cooler lines, 4 new O2 sensors with extension harnesses for the headers, new motor mounts, new plug wires, an updated GM valve cover to reduce oil consumption, new EVAP lines and solenoid, new starter and more. The only parts reused from the old motor were the front accessories, coil packs, MAP sensor and MAF sensor.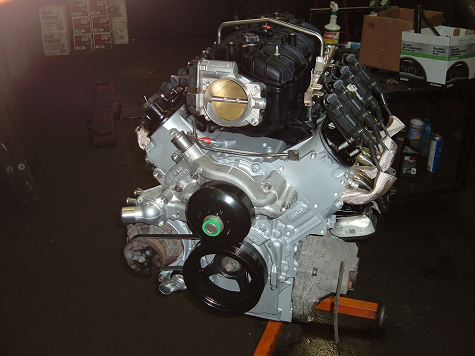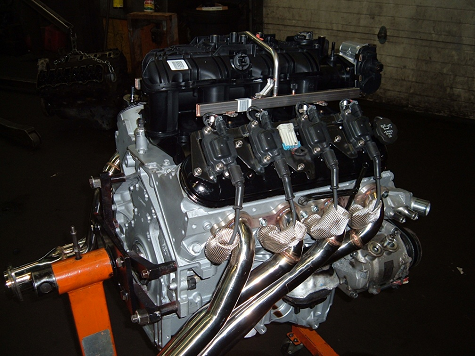 New Hankook RH06 tires and new Raybestos Advanced Tech rotors and pads freshened up the driving gear. The engine has been great so far, the idle is just right for me, and the big 6.2 combined with the Hot Cam produces a very strong midrange torque band. While it isn't exactly thrifty on fuel, with tuning its using about the same fuel as owners are reporting with the factory TrailSS. Overall the truck is very enjoyable to drive and the motor project has been a success.