2001 Buick Regal LS Project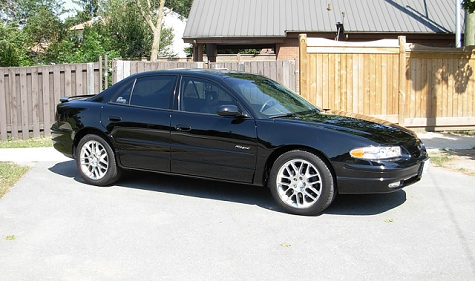 Of the 5 W-Body vehicles I've owned 3800 equipped, this is the only one that wasn't supercharged. But before I bought it, it was turbocharged.
I first worked on this vehicle for its 2nd owner, a detailer, and helped salvage a heads/cam engine build project when the car was delivered down to Toronto from Ottawa with the engine in several boxes. After fully porting the heads, a mild turbo camshaft combined with a turbo kit and a fully rebuilt transmission to complete the project.
Years later, the vehicle was offered to me for sale by a friend who had purchased it to part it out. I'm not sure of the whole story but apparently the vehicle had been the victim of a poor transmission rebuild and turbo upgrade project; a brand new transmission was physically installed but tons of misc parts and bolts to complete the install were missing and the owner had taken off its turbo kit to salvage some money from the vehicle.
Even after an extensive search and purchasing of all the misc components, the motor and trans ran, but I was still weary of what I was driving around, and items such as the steering rack needed replacing, full of water from the reservoir sitting open. I decided while they were available, I would purchase and install a low mileage, young engine and transmission, and fully update the suspension, steering and brakes.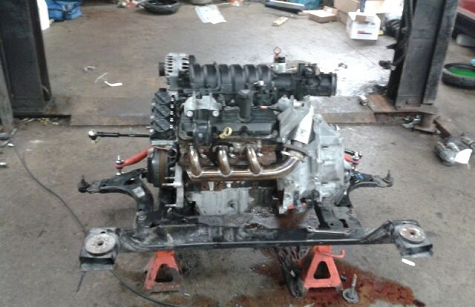 A 2008 Buick Allure (LaCrosse) L26 3800 was located with 6,000kms on it, along with the matching 4T65E transmission. 2008 was the last year of the 3800, so this was very exciting to find. All the accessories were purchased with the motor, such as the power steering pump, the water pump, starter, coil pack and module, tensioner bracket, EGR and bracket etc. New parts were purchased to go with, such as new front and rear O2 sensors, new belt and tensioner pulley, radiator hoses, transmission cooler lines, plugs and wires etc. Power updates included a ZZP HV3 intake insert, ZZP Powerlog, ZZP 2.5" catted downpipe to match a preexisting 2.5" cat-back with Dynomax muffler, L67 70mm throttle body and modified air filter box.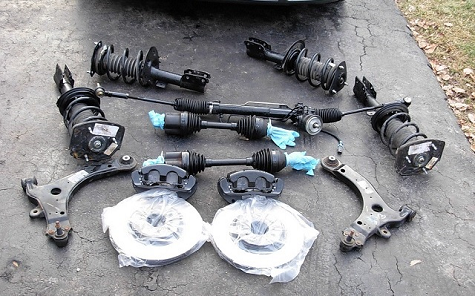 The brakes were updated in front with 12.7" brakes from a 2006 Cadillac DTS, which use dual piston calipers and rotor size identical to the Grand Prix GXP; low mileage calipers were easily located in the wreckers, and Raybestos Advanced Tech rotors and pads were purchased front and rear. After removing the lowering springs and GR2 struts, the suspension update required sourcing from multiple sources to get low mileage, good condition lower control arms from a 2009 Chevrolet Impala, complete strut assemblies from a 2006 Grand Prix, new Moog sway bar end links front and rear to match the already updated GMPP sway bars and trailing arms. A Magnasteer II steering rack was sourced from Buick Allure CXS, and for good measure new Moog inner and outer tie rod ends were installed.
With only ~70,000kms on the vehicle 10 years old, and being owned by a detailer, the car was in terrific cosmetic shape in and out. New headlights and fog lights helped bright up the front end. Since new tires were needed, new takeoff Mustang wheels and tires were purchased, as they appeared to closely mimmick the SLP GSX wheels of years past, and bolted right on.